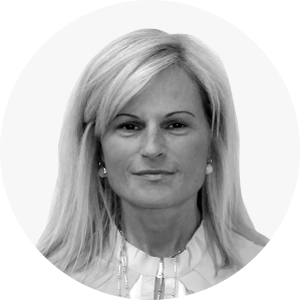 Jacqueline Scalisi
RSL and R&R Representative
Jacqueline is Vice President and General Counsel for RSL Management Corp. and Ronald S. Lauder. Jacqueline oversees and manages all legal affairs of Mr. Lauder and is responsible for a wide range of legal issues that relate to investments, art law, employment, general corporate and charitable activities.
Jacqueline is R&R Venture Partners LLC's representative on our Board of Directors. R&R Venture Partners LLC is an investment vehicle formed by Mr. Lauder and Richard D. Parsons.
Prior to becoming Mr. Lauder's General Counsel, Jacqueline practiced law at Debevoise & Plimpton where she specialized in executive compensation and employee benefits, primarily in the context of mergers and acquisitions. Jacqueline also provided pro bono legal services to individuals and organizations.
Jacqueline serves on the Board of Directors of Elevator Ventures Holdings Ltd., an investment vehicle that focuses on early stage Israeli companies.
Jacqueline holds a Bachelor of Business Administration in Accounting from Pace University and obtained her juris doctorate from Brooklyn Law School.